Greetings Habs Addicts!

Well the ink has dried on the enormous 8-year/$72-million dollar contract signed by P.K. Subban this past week. With an average annual value (AAV) of $9-million dollars, P.K officially has the highest cap-hit for a defenseman in the entire league. While he does have a Norris Trophy and Olympic gold medal under his belt, he does lack the Stanley Cups that past Norris Trophy winners Duncan Keith and Zdeno Chara can boast about. And the Stanley Cups that fellow Gold medallist Drew Doughty can boast about.

Is Subban worth $9-million per season? Has he done enough to deserve it? These are some of the questions being tossed around the league right now.


Subban's $9-million cap hit is the highest in terms of average, but this season alone there are several defensemen who are actually making the same if not more money than P.K on the basis of them signing front-loaded contracts prior to the new CBA being signed. They are: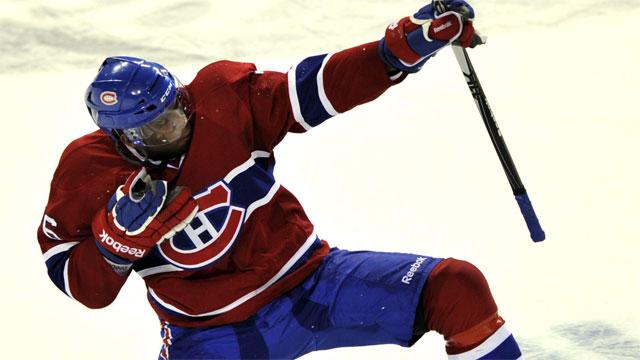 Photo Credit: Sportsnet.ca
Shea Weber, Nsh - ($14,000,000)
Ryan Suter, Min - ($11,000,000)
Dion Phaneuf, Tor - ($8,000,000)
Duncan Keith, Chi -($7,600,000)
Kris Letang, Pit - ($7,250,000)
Brian Campbell, Fla - ($7,142,875)
Zdeno Chara, Bos - ($7,000,000)
Drew Doughty ($7,000,000)

P.K. Subban ($7,000,000)

Brooks Orpik ($6,500,000)
In terms of actual dollars being paid this upcoming NHL season, Subban ranks ninth.
Subban is coming off of a season where he put up 10 goals and 53 points, won an Olympic Gold medal and paced the Canadiens with 14 points in 17 playoff games, including an upset of the Boston Bruins and a trip to the Eastern Conference finals. Yes, he was mostly a spectator at the Olympics, but the way he carried himself showed tremendous growth and maturity as well as an ability to stay humble and put the team's best interests first. When you look at some of the names on this list there is no reason to believe that Subban does not belong with the likes of Brian Campbell, Kris Letang or Dion Phaneuf. Subban is not in the same defensive class as Weber, Suter, Keith or Doughty, but at 25-years old, he has plenty of time to develop that part of his game.
With the
NHL having agreed to a massive $5.2 billion dollar cable deal with Rogers Communications
, the league is going to be raising the salary cap each year for the foreseeable future. This massive infusion of income has put every team in good position to spend and when players such as Keith, Doughty, Brent Seabrook and Erik Karlsson have their contracts expire, expect them to sign for as much if not more than Subban did. It is hard to compare contracts on a year to year basis. Arguably, if Carey Price was a free-agent this summer, he would be making far more than the $6.5 million average he agreed to a couple of years ago. Each summer is a different market with a different salary cap. This happened to be the year that Subban became a free agent. It is what it is.
Obviously the Habs expect Subban will continue to improve in all aspects of his game. He has a tremendous work ethic which will not change. It's ingrained in his blood. It is part of who he is. Subban handled the Olympic situation and his lack of playing time with tremendous grace and professionalism. If he was upset about it, it did not show. If it was a blow to his ego, he played it off well. Anyone who saw his medal-winning video saw an energetic player who was enjoying the experience in whatever capacity. It was a maturity level that he finished the year with and brought into the playoffs. He stepped up big in the playoffs again, pacing the club and playing big minutes. While he still does not kill penalties, that should change next season as more responsibility is added to his plate.
There is a leadership void in the locker room, either real or perceived. Brian Gionta and Josh Gorges are both playing for the Buffalo Sabres now. That means there is a vacant captain and assistant captain role that needs to be filled. Andrei Markov is the other assistant and the Russian warrior has turned down the C in the past. Subban is now the team's highest paid player; its star. Carey Price is the other but Roberto Luongo has shown that a goalie cannot be a captain in this modern NHL era. Subban is confident, skilled and vocal. He will address the media and he will step up and lead. Gone is the cocky, arrogant and undisciplined player he was when he broke into the league. If he is not named the captain this year, he will be sporting an A on his chest this season. He's earned it and he deserves it. Sidney Crosby, Jonathan Toews, Steven Stamkos and Gabriel Landeskog have earned letters at a young age. It's time for P.K. Subban to get his.
---
Nick Malofy
is a transplanted Montrealer, currently living in evil LeafLand. He is a contributor here at
HabsAddict.com
and give him a follow, as he can often be found rambling on
Twitter
.