Greetings Habs Addicts,

Amid all the Josh Gorges rumours yesterday, Marc Bergevin did complete a trade. But it did not involve Gorges afterall. Bergevin shipped Daniel Briere to the Colorado Avalanche for P.A. Parenteau and a 5th round draft pick in 2015 in an exchange of Quebec natives who lost the trust of their respective head coaches this past season.

Parenteau was rumoured to be coming to Montreal at various points during the regular season. One rumour had Rene Bourque being offered. Another rumour had the Avalanche requesting prospect Sven Andrighetti to be included with Bourque for Parenteau. In the end, Briere moves west and the Habs get a bonus draft pick in return. Truth be told, I'm sure Bergevin would have traded Briere just for the 5th rounder alone. The 37-year-old Danny Briere has one year at $4 million left on his deal; the 31-year-old Parenteau has two years at $4 million left on his. So the Canadiens absorb an extra year of contract for a proven top-six winger who is six years younger and likely to slot in on the RW side.

Photo Credit: Canadiens.com
While the 6'0" Parenteau is not a physical player, he is a bigger player than the 5'7" Briere. Size is size. The pass-first Parenteau has a style of game similar to former Avalanche and Canadiens forward
Alex Tanguay
. Tanguay only played one season in Montreal, where he had 16 goals and 41 points in 50 games while suffering from various ailments. While it is too early to speculate where Parenteau fits in the line-up, it is hard to see him fitting on a line with
David Desharnais
and as both players have pass-first tendencies although he might mesh well with the sniper
Max Pacioretty
.
Briere never earned the trust of Michel Therrien and spent most of the season juggling between the bottom lines and most centered the 4th line. His 13 goals and 25 points in 69 games represented his worst statistical output since his 1999-00 rookie year and his average time on the ice of 12:46 was the lowest it was since 2000/01 with Phoenix. Briere might not be a top-6 forward any more at this point of his career, but Colorado is willing to gamble that he has something left in the tank. Briere can still contribute on the power-play.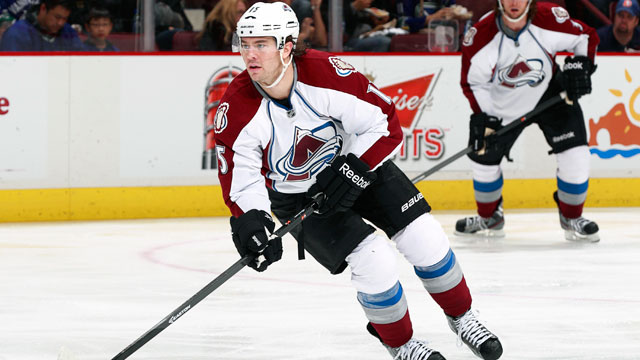 Photo Credit: Sportsnet.ca
Parenteau briefly talked to Montreal as a free-agent prior to signing a four-year/$16-million deal with Colorado two years ago. The Boucherville, Quebec native had a 20-goal season in 2010-11 and a breakout 67-point season in 2011-12 while playing with
John Tavares
on the New York Islanders. His first year in Colorado saw him put up 18 goals and 43 points in a lockout-shortened 48-game season. Last season he struggled with Patrick Roy at the helm and has acknowledged there was some friction between the two. In 55 games, Parenteau had 14 goals and 33 points. Last season was also the first time in his career that he missed games due to injury as he suffered a torn MCL. He is expected to be completely healthy in time for training camp.
Parenteau has friends on the Canadiens in
Dale Weise, Brandon Prust
and Desharnais so he will see some familiar faces when he arrives at training camp.
Notes:
The Canadiens career of
Ryan White
has ended, unless he signs a minor-league deal as the Canadiens declined to offer him a contract and he is set to become an Unrestricted Free Agent. White failed to crack the line-up consistently and was subsequently replaced in the Therrien circle of trust by his good friend Dale Weise. Minor leaguers
Peter Delmas
and
Robert Czarnik
were also non-tendered.
Marc Bergevin did extend qualifying offers to forwards
Lars Eller
and
Joonas Nattinen
and defenceman
P.K. Subban
, thus retaining their rights. While Eller and Subban are expected to sign long-term extensions, qualifying them was necessary in retaining their rights and as such, this is hardly considered news.
---
Nick Malofy
is a transplanted Montrealer, currently living in evil LeafLand. He is a contributor here at
HabsAddict.com
and give him a follow, as he can often be found rambling on
Twitter
.