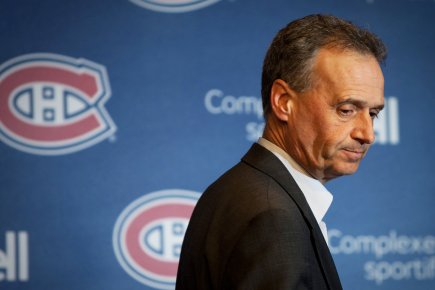 Good morning Hab fans!
It finally happened.
General Manager Pierre Gauthier was fired yesterday.
Although the man has made some good hockey moves,
a point which I have argued before
, he also proved to be an utterly inept communicator and leaves the team behind with a dubious salary structure.
Perhaps more importantly, Bob Gainey was also released from his role as special advisor. As you will recall, Gainey was the main architect of the 2009 rebuild that saw high-priced contracts such as Brian Gionta, Mike Cammalleri and, of course, Scott Gomez brought in.
In his stead, Serge Savard has been brought in to consult on the hiring of the next GM.
Its a first step. What do you think will happen next?
Habs News
HabsAddict.com -
Patrick Roy's Return?
HabsAddict.com -
Geoff Molson Comments Pierre Gauthier Firing - Press Conference Notes
ESPN -
Debate: What now for Habs?
ESPN -
5 Things: Habs are a mess Patrick Roy?
ESPN -
Rumblings: Who will be next Habs' GM?
La Presse -
Sondage CROP - La Presse: les Québécois réclament Patrick Roy
La Presse -
Qui sera le prochain DG du CH?
RDS -
On a payé pour une reconstruction ratée
Sports Illustrated -
Handicapping the candidates for next Canadiens GM
The Hockey News -
Proteau: With Gauthier out as GM, Canadiens need new image
TSN -
TSN scout Button looks back at Gauthier's draft record
TSN -
Canadiens' Cunneyworth on thin ice after GM Gauthier fired
USA Today -
Roundup: Devils, Caps stay in playoff hunt with wins
(Photo by Andre Pichette/La Presse)